Hola y Bienvenidos!!
Hello and Welcome!!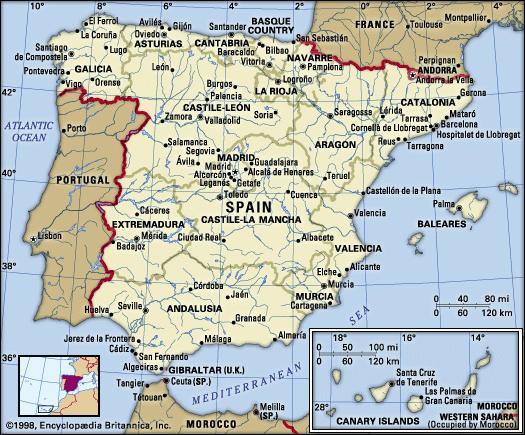 Have you thought about travel to Spain? Have you dreamt of being serenaded by Spanish music while eating Iberian ham and drinking Sangria? Have you wondered what it would be like to watch a romantic Flamenco dance and feel the emotion so much it brings a tear (or two or three or your blubbering like a baby) to your eyes? Well, I have and more.
-Picture of Spain from Wikipedia.
When I and most people think of Spain, we think of Bullfighting, Iberian Ham, Sangria, and Flamenco. And, Spain is known for all these and so much more. Umm,, forgetting to mention, TAPA'S!! Face palm, how could I forget the food??!!! Oh, the Tapa bars! Droooolllll.
Spain is a beautiful country with multiple vast lands of olive trees, citrus trees, various snow-capped mountains, and beaches. If you are a history buff, like I am, you will appreciate its vast history that includes early Romans, Arabs, Jews, Basques, Galicans, Catalonians, Castilians, Basques, and Roma (Gypsies).
For, a more detailed history, check out these sites I enjoyed reading about the history of Spain.
These handful of cultures are renowned for their varied cuisines, customs, and prolific contributions to the world's artistic heritage and of course, the reasons why people love Spain.  You can certainly spend a month or more, but it is easy to spend 1 week in various parts of the country. Walking the cobblestone medieval streets of Madrid and various cities in Spain, glancing over the beautiful and very detailed architectures of past cultures leaves you wanting to discover more in each city, because each one is different in their own special way!!
With, that all out-of-the-way! Let's get down to business, shall we?!! And, that means, well what do we do? What do we need to see? How do we get there?
I make my own itineraries for my trips. Of course, that included Spain. It requires extensive research and with this trip, mostly planned because I had several destinations I wanted to visit and a shorter period of time. I will briefly summarize my itinerary and then link you to my next post where it will be more detailed as to not BOG down this one. 🙂 I had 10 days and 3 of those were spent traveling, which gave me 7 days on land to EXPLORE! I focused on Southern Spain, with my base out of Madrid. I traveled in November this year during Thanksgiving week.
SPAIN: in 1 week
Day 1 &2- (Sunday and Monday) spent traveling
Day 3- (Tuesday)  Arrived in Madrid – spent rest of day exploring, spend the night
Day 4- (Wednesday)  Spend day in Madrid sightseeing, spend the night
Day 5-  (Thursday) Took bus to Grenada, spend the night
Day 6-  ( Friday) Return to Madrid enjoy the night in Madrid, spend the night
Day 7-  (Saturday) Day trip to Toledo and Segovia, via bus guided tour, I'd recommend for this. Spend night back in Madrid
Day 8- (Sunday) Bus trip to Seville. Spend the night
Day 9- (Monday) Return to Madrid, spend last night
Day 10- (Tuesday) Leave
These trips can be done very easily without feeling too stressed and having the fear of not seeing the important sights!
Click link and follow thread to detailed itinerary!!!